Click pictures to enlarge them.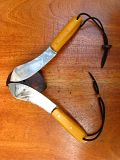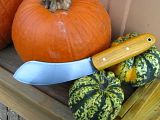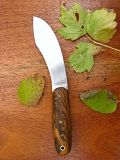 The first two are walnut and zebrawood respectively. Both are made with J Russell high carbon blades. The walnut handled knife has brass pins with black liners. The zebrawood knife has bamboo pins and red liners.
The next knives are Nessmuk style knives made out of reprofiled skinner blades. They are both osage orange. One has brass pins the other has bamboo pins and black liners.
The last knife is more of a Grohmann clone. The owner of this knife wanted a knife with more of a point. The handle is bocote with black liners and bamboo pins.
I fit all of these knives with a lanyard that has a bead made of the same wood as the handle.